Category Archives:
Sports, Health
Another "must watch".
Another marvelous documentary from Five Thirty Eight Sports.
Those who know me, know that I am quite impressed with Nike.
What is so impressive to me is that Nike hits a home run (or two!) every year.
Every year, year after year, Nike ships a must-have product.
Jordans
Zooms
Shox
Elites
Frees
Roshes
etc, etc
That is so difficult to do, that no other company, in any industry can do it. Apple comes close, but Apple makes surprisingly few products, and Apple doesn't change designs yearly.
All of that is an introduction to my prediction that the Nike Orbits will be huge once they are introduced later this year. They will be another must-have; another home run.
The Free Orbit
The Lunar Orbit
So a woman's beauty is now dependent on a tiny triangle of nothing that comes and goes depending on her stance?
Come on. Not more of this picky, degrading crap.
There is so much that makes a woman beautiful—a million more things than a half-inch by half-inch section of air.
Hey ladies, let the gap be motivation to live a healthier life. Or not. Let it be a fitness goal. Or not. Certainly don't let it be what your self esteem is based on. You're beautiful… whether you have a thigh gap or not.
————
Cross-reference: Why is being fat bad?
Derek Poundstone at the 2010 World's Strongest Man competition.
This is from 2010. The Apollon Axle (train wheels stuck on a bar) weighs around 366 lbs. The Circus Dumbell weighs 202 lbs.
Doyle Kenady setting the world record in 1983:
"No one has ever written adequately about Doyle's incredible feats of strength."
More comments about Doyle:
"What can you say but incredible! Love powerlifting back then."
"Doyle and his friends moved incredible weight around like toys."
"One of the most powerful men that ever lived."
"The prototype for all that came after him!!!"
"Doyle Kenady was a world class lifter and a outstanding person."
"I doubt that the circus called powerlifting today will ever get back to the prestige that it held back then."
"Got to love Doyle Kennedy, that is what a powerlifter should look like!"
"Doyle was a man among boys, I wish I would have had the opportunity to train with him in Salem."
"I agree with what you said about Doyle Kenady. He was a friend of mine in the last years of his life and a very nice person. He died too young if ask me (50). We used to cut wood together every year for 3 years and he would work my 22 yr old butt under the table. We used harvest Xmas trees too, and that was damn hard work, which he was never scared of."
"I had the honor and good fortune to train at Doyle Kenady's gym in Salem, Oregon for several years. He was a genuine, soft spoken, 'gentle giant' who not only was a top powerlifter and recordbreaker, but also trained a whole team of nationally ranked powerlifters as well. I remember 'Deadlift Day' was saturday. They started about 1pm and were there for about 5 or more hours that day. Talk about serious training! I had one of his team tell me that Doyle trained far heavier than his record breaking deadlift. Although I never saw it personally, I was told that he pulled 1100 using wrist straps. The world lost a good man and I lost someone I considered a friend when Doyle died. He will be forever missed by those who knew him."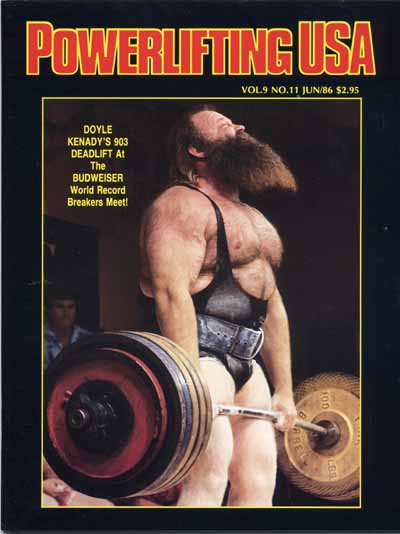 Doyle was a close friend of my dad and a generous man.
You can watch Doyle compete in the 1983 World's Strongest Man competition: Part 1. Part 2.
A couple good articles about Doyle. Here. And here.
His Wikipedia page. Check out all the championships.
…of course… if it involves Kansas City Royals great George Brett.
A great article. Great journalism.
The whole idea of a strip-club bathroom attendant creeps me out.  ("Door George" is more than just a bathroom attendant.)
Here's the classy part:
"Here comes George Brett in the club—I recognized him right away—and I showed him to a chair and got him a complimentary drink. I ran the tables. And if I said somebody got a drink, they got a drink."

In the Hustler bathroom, Door George is half-seated on the sinks with his head cocked in what the uninitiated might mistake for a parody of 'fond recollection.'  Chris Brown's "Don't Wake Me Up" is blasting overhead and an upbeat announcer is imploring us to keep it going for a dancer of unseen endurance and felinity.

"This was '87, and the Kansas City Royals were in town," George goes on. "This was the year after Buckner let that ball go through his legs in the World Series. And, well, I didn't recognize Buckner, but I recognized Brett. And somebody was giving Buckner a hard time on account of that ball going through his legs.

"And I took care of them, moved them to a more private table and got them drinks. And Brett, he appreciated it. He asks me 'Can you come to the ballgame tomorrow night?' And I say, sure.

"Next day, here comes a limousine and an envelope with $100 and two tickets to the game with a note thanking me for looking out for them."

George raises an index finger, the story's not over.

"From that day on—I never saw him again in my life—but every time the Royals were in town, sure enough, I got an envelope with $100 and two tickets, up 'til the day he retired. That George Brett, now there was a classy guy."